Program + Rules of our Hikingteam
For the program click the Greek Flag
HAVE A LOOK EVERY SATURDAY NIGHT IN CASE THERE IS  A CHANGE
We are waiting for your comments and proposals on the articles . In near future we are going to inform in English on many articles.
Note : Our website has just been improved by http://www.syrostoday.gr/ .
 PLEASE READ THE FOLLOWING NOTICE
Due to the rapid increase of participation we repeat the following:
The period of walking routes is from the first Sunday in October (or slightly earlier) until the end of April starting at 09: 00 and from first of May until the end of June starting at 08:00 every Sunday from

Alpha Bank near Supermarket Neorion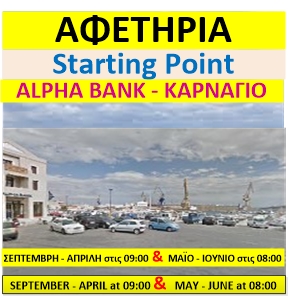 The "Hiking Group of Syros" is an informal group that routes for more than 20 years without a Formal Regulation Form. That is, there is no president, vice president, etc., but those who want to hike, come every Sunday at the hotel "Diogenes". At that time there is a decision where to go (among the 1st and 2 more alteranatives) depending on the weather.
It remains so until today because most rarticipants come to walk … to gather herbs. (Others – mostly women left behind picking radish, others go quicker -the younger ,others slower- the pensioners ,others come to a point and then perform their own destination ...) .So although there is no accountability, on the other hand, the group has long life and that's why there are always people on every Sunday –sometimes  a few , othertimes more – on any weather conditions.
Some routes are considered walking designated level "easy" and some "moderate" while others is a combination  Hiking & Mountaineering -easy or difficult (depending on whether and are  characterized as level "difficult" or "very difficult").
  Basic rules of hiking
. Never walk alone. Hiking will be safer in a group , if something happens to you ,the rest can help.
Hiking inaccessible and difficult and sometimes dangerous, which is not mapped on our site is not included in our programs is implemented only by individuals with experience, on their own responsibility and we do not recommend them to beginners or people with health problems.
• Walking with a group allows you to meet new people and expand your circle.
• In no case during the training should feel any discomfort or inconvenience .If you have the slightest health problem you should consult your doctor for alternative workout.
• Those to come for the first time to choose the date that route is short in duration (level 'Easy').
• Do not start walking without first visiting your doctor.
Stefanos Skiathitis and Vasilis Dimakis are simply administrators of the site and responsible ONLY :
• To print the monthly schedule (before the website ,many complained about going often to the same routes).In that way, depending on the level of difficulty of the scheduled route,  citizens or visitors of Syros decide whether to participate or not.
• To post photos of each route or events (Carnival, New Year cake, Party at the end of hiking period, cleaning paths and the beach in Old Cave ….)
• To give further information via e-mail for each route to anybody asking .
• To enrich with useful information the Category marked: "UTILITIES" which you MUST read it so as  participants  to be equipped with the right things:  
Clothes – Shoes – Backpack – Waterproof – sticks -Hats – water – chocolate – candy – coffee – whistle 
How to make decompression to avoid pain in the knees,
Takin care for wild animals, snakes …
If the doctor allows hiking …
 it is desirable, those who take part to follow the instructions of the oldest hiker of the group (since there is no "official" guide) who knows better every path from  the most accessible way, to avoid injury or to be lost or to give some help if needed.
So You are responsible for yourself and it is desirable to follow the team or at least 

inform

the ''leader'' , that you are going to be left behind or if you are going to follow your own path , so to avoid accidents and not to worry and put in a difficult situation the rest of the team.
When the route is characterized  "Very difficult" it is desirable not to involve those having health problems
To announce to our members from our website on FacebookPictures of each route be posted here: The pictures then become public and may be published in other sites

The photographers please the photos they upload to be, mainly, landscapes, any persons appear in distant and staged photos only those who wish.

If somebody does not want to be in photos we upload to our website to state it to be excluded.

Pictures, video and comments not relative to hikers will be deleted

Pictures, video and comments but of the various events of hikers placed in Group: " Artistic Expression hikers' Here: If photo, Video, comment imply something obscene will be deleted