PLEASE READ THE FOLLOWING NOTICE
SOME TIPS:
• One of the most basic rules of hiking is that you never walk alone. The hike will be safer because if something happens to you the rest can help.
• Walking with a group allows you to meet new people and expand your circle.
• In no case during the training should not feel any discomfort or inconvenience .If you have the slightest health problem you should consult your doctor for alternative workout.
• Those to come for the first time to choose the date that route is short in duration (level 'Easy').
• Do not start walking without first visiting your doctor.
 Walking/Hiking/Climbing
Walking/Hiking/Climbing is a physical activity that uses walking as a means of entertainment, training and improving the physical condition of people. Hiking is addressed to anyone, regardless of age and sex, since it is one of the safest ways to exercise. However, walking on mountains is not so simple (especially on Syros slopes)thing as prima facie appears. So our first mountain trails is better to be on slopes not too steep for not subjecting the muscles and joints to excessive pain. But on walking , the joints are not stressed as in running or jogging! What we need, of course, is the emphasis on proper gait during walking, so as not loaded neither joints nor your cardiorespiratory system above normal especially for the aged and for those having no good physical condition.
The small fluctuations in speed (from 4 to 6.5 kilometers per hour), and the alternations uphill-downhill, will have beneficial effects on your body. The muscles during walking exercise are mainly the legs (quadriceps, calves, hamstrings, gluteals).
The physical activity of the body:
Reduces mortality.
Reduces the risk of cardiovascular diseases.
Reduces the risk of various diseases (diabetes, osteoporosis).
It fights obesity.
Works positively on mental health.
A good physical condition means that:
As the day ends we feel the same "fresh" as we started.
We can enjoy a deep and refreshing sleep every night.
No wake ''caught'' after a day's exercise.
We feel rejuvenated.
We can comfortably perform everyday movements.
Climb stairs without gasping so that we can talk as just get to the end of the ladder.
We have no cut of our breath with just a little run to catch the bus.
We deal with children participating in their activities.
We have a good passport for good old age to enjoy it.
Features of hiking shoes:
You must wear mountain-hiking boots [General rule however for all boots are to have waterproofing membrane Gore-tex, . to cover very well your ankle, be the sole VIBRAM rubber that is slip-resistant sole -have the yellow trademark – which combined with wool socks (it is good idea to have a second pair always with you)]. Avoid cotton socks.
For summer hiking or where there is no snow-ice, as the paths of Syros, we propose semi-rigid boots (about 140-250 Euro) .The protection and support that offered by hiking boots do not compare with low flexible shoe of walking in  asfalto- cement roads .There you must use flexible shoe low height(50-150 Euros).
Never dry your shoes on the heater or fire. Direct temperature will harden uppers of shoes, making them rigid.
Do not wear new hiking shoes for the first time on the mountain. First try in town , in order to get the shoe to fit the foot and avoid undesirable wounds.
VIBRAM & GORE-TEX are very good hiking boots: VIBRAM company is the leading supplier of high quality soles to all manufacturers and hiking boots ensure maximum adhesion between the ground and the sole technology used is a secret of the company. The mark is at the back of the sole as a yellow octagon with the word VIBRAM. It is no important if there is no a mark on the sole of the  yellow octagon with the word VIBRAM, because almost every manufacturer makes good boots inserting sole Vibram but puts its own slogan. Eg the famous company MEINDL puts this mark in the sole. The first membrane material GORE-TEX used as a uniforms for Americans astronauts.This membrane has the characteristic of being waterproof while permitting the evaporation of moisture from the inside to outwards. But does not solve  the problem of foot odor , that of the 'aromatic' molecules which are larger than the pores of the membrane and cannot be cleared. Therefore the solution is to use talcum powder and deodorant spray special. Other similar materials with the GORE-TEX is the

COMFORT-TEX

and

SIMPA-TEX

.
 Ηave a backpack containing:
One litre of water.The effects of dehydration, such as confusion, fatigue, urinary tract infections and kidney stones are best avoided drinking water.
Hat and gloves and waterproof-windproof fleece in winter and hat and sunglasses in summer months.
Health chocolates for immediate action. (On the mountain there is always the risk of hypoglycaemia. Hence, a piece of chocolate or raisins – restore blood glucose levels and help the body to regain the energy needed to continue).
An emergency kit should contain patches for blisters from cotton cloth or foam to use once you feel burning in the legs, a small pair of scissors, an elastic bandage for sprains or joint pains, and a pair of tweezers to remove the stinger if you bee or wasp sting.
A Swiss Army knife is one of the most useful tools.
Spare laces for hiking boots are also useful for many different situations such as repair of the backpack straps.
A good whistle is also useful for emergencies.
We propose to use mountain walking sticks. (15-25 euros each). Using two sticks downhill reduces pressure on the back and joints of the foot and helps on slippery surfaces
The fall in blood sugar
The fall in blood sugar can cause fatigue, mild dizziness, or even exhaustion, especially if your level was already low
Please carry always one to two health chocolates or a small packet of sugar and at least ½ liter water.
If your overall diet is sufficient to keep your tanks full, you should eat "nothing " before hiking (a tablespoon of honey or a sports drink it is enough) in order not to upset your stomach unless you have health problem such as diabetes or hypoglycemia then you should consult a doctor.
The bulk of the fuel consumed during exercise does not come from your recent meal but comes from carbohydrates (called glycogen) and fat stored in muscle, liver, and fatty tissues. So if the night before we fill with glycogen, our paths in Syros, according to electronic calorie consumption gauges is ranging from 700 Kcal (for easy), 1200 (for medium) until 2000 (for very difficult) and  we will have no problem.
How to start
1 . Warm [Warm Up]
is a necessary progressive physical and psychological preparation through preparatory movements or exercises before the main program.
During preheating, researchers have found that take place the following functions in the body.
Increased circulation and metabolism resulting in an increase in temperature.
Increased muscle flexibility.
Increased muscle perfusion.
Gradual increase in heart rate, thus accelerating faster transport of oxygen to tissues.
Milder secretion, better utilization and reduce the total lactic acid produced.
2 TRAINING (HIKING)
hike in the morning and avoid the afternoon.
If you are unfit or you've not had some kind of training or has passed too much time you should start slowly and gradually .
The rate of hiking is very important because it stabilizes breathing, reduces the pressure put on the legs, lungs and of body generally during training. Finally the fixed rate will leave you more relaxed at the end of the route.
Do not interrupt the pace during the journey unless it is absolutely necessary. The obstacles you will encounter are not necessary to stop the pace to slow down or even stop. Breath normally with a steady pace and in any case do not hold your breath –keep the pulse steady permitted for your age level.
Do not try to follow the rhythm of other hikers who are in better physical condition. A hiker who gasps trying to follow others certainly will not enjoy either landscape or friends, or the hike.
3. Recovery [Cool Down]
It is the essential progressive physical and psychological restoration, through mild movements at the end of training.
The exercises at the end of the main program are the best way to minimize fatigue and to remove all bad substances accumulated in the course. Therefore you should never try to skip this step. The recovery exercises should be such as to relax and not to be weary for the trainee.
Recovery Results
During recovery, researchers have found that take place the following functions in the body:
Decreasing the temperature of the body and returns to normal levels.
Normalizes metabolism and organ perfusion.
Improves flexibility and muscle perfusion. · Normalizes the transport of oxygen to tissues.
Reset partially or completely all organ systems in the state it was in before the workout.
EXERCISES WARM UP- -COOL DOWN
Start the first 5-8 minutes leisurely walking or jogging as well as some exercises such images: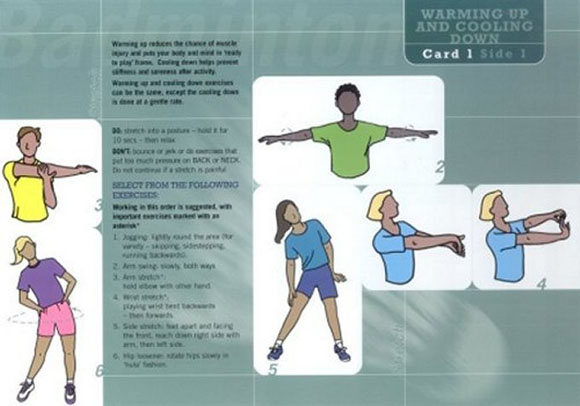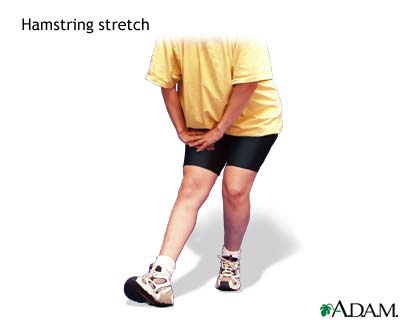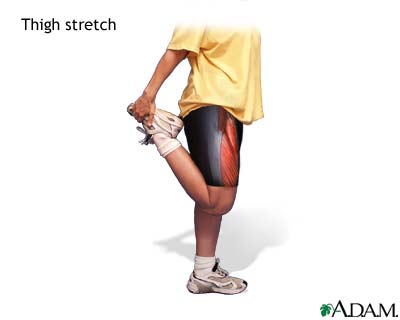 When walking feet receive the greater charge, it would be good to finish the work by the above two exercises:
 WARM UP- -COOL DOWN EXERCISES
Start the first 5-8 minutes leisurely walking or jogging as well as some exercises such images:
When walking feet receive the greater charge, it would be good to finish the work by the above two exercises:
Knee Pain
Knee is one of the most remarkable parts of our body. Although no bigger than a fist, can "lift" up to four times our body weight! Always there is a risk "betray". Why, except for injuries and damages that can be created over time, there are other factors, such as the quadriceps unfit, poor body alignment, and the use of shoes that do not properly support the foot arch, threatening your knees. Prevention, therefore, is important. To have strong knees should be kept to a healthy weight and take care of them.
If your knees hurt, the worst thing you can do is to continue an activity that is painful for them. This does not mean you have to stop to move. The solution is to remain active (lack of activity can lead to overweight and a greater burden on the knees). If you feel discomfort on knees, this means that the muscles in the area are unable to accept loads of body. For this you need to follow a program of strength training with weights. The exercises recommended are to help you deal with the discomfort in your knees. But remember – first consult your orthopedist:
Lie on your back and push the leg stretched downward tightening the quadriceps and having your toes pointing upwards. Repeat 10 times.
Lie on your back again in the same position, tighten the leg and stay for 20 '. Then lift your leg that is tilted about 30 degrees from the line of mattress and hold it there. Repeat 10 times.
Stand upright and rest at the back of a chair or a table. Put your feet together and make ten small seats slowly and steadily. Repeat 5 times.